5 Things I Found Interesting 11.17.2017 Edition
It's that time of the week again! Time to bring up 5 things I found interesting throughout the week. What will it be this week?! See below…
1. Valerian and the City of a Thousand Planets
Valerian was finally available for rent on Amazon and my wife and I settled down to watch Luc Besson's latest flick Valerian and the City of a Thousand Planets. I give it a solid 4 out of 5 stars. The visual effects were out of this world on this film. I have to admit I take one star off, because some of the acting by the main characters were a bit dry (but I think that was intentional), and there were some unnecessary sequences in the film that I found were unnecessary (as they didn't move the main story over). For example there's a scene with an alien shapeshifter and alien king (no spoilers here – the entire film has over 1000 planets – and countless alien species in it). It definitely brought back memories of the Fifth Element with its visual effects and was very entertaining. I definitely recommend a view at least once.
http://www.imdb.com/title/tt2239822/
2. Gerber Suspension Multi-Tool
While everyone was up early this morning trying to get black Friday deals. My wife and I decided to finish some long overdue projects at the house. While I was picking up supplies for a flooring project, I found this little gem on sale. What I like about this multi-tool aside from the price (about $20 on Amazon or Homedepot – where I picked this up), the Gerber Suspension has a lot of things going for it. It has needle-nose pliers (where many multi-tools have block point pliers), both a serrated and straight blade, scissors that are pretty decent, and a variety of other standard multi-tool additions (Phillips head, flat head, woodsaw, etc…). What I like about it the most is the locking mechanism for each tool, which prevent each tool from accidentally closing on you. All the accessory tools aside from the pliers are available on the outside part of the tool (meaning you don't have to open the Gerber to access them). The cons are that the knife blades and saw blades are pretty small for a multi-tool of this size, the Phillips head is a little flat, and I would have personally preferred that a file would have been included (those things come in handy).

3. Net Neutrality – An Opposing View
This is a take basically against keeping Net Neutrality and I wholly disagree with it. The broadcaster though knows how to make a solid valid argument, but his argument is not sound. He makes a lot of assumptions based on the past and basically builds a historian's fallacy. Basically, saying because nothing happened in the past, and things improved, the future without net neutrality will essentially be the same. You should always hear both sides of an argument to understand what is true. Learning about the oppositions view will either make your reasoning stronger, or find holes in it.
4. Parasitic Worms Found In North Korean Defector
This was super weird when I first read it. A North Korean soldier dramatically makes it across the border and gets shot multiple times, while doctors treat the soldier, they found HUGE worms inside of his intestines. One of them which typically are only found in dogs. The largest worms were over 10 inches long! Imaging having that living inside of you. You hear stories of malnutrition and disease from 3rd world countries, but actually seeing the parasitic worms taken out of a person makes it a bit real. You can't really see disease – you can see the effects of disease, but not the disease itself (unless you of course are looking at them microscopically). Seeing those worms really provokes a visceral feeling.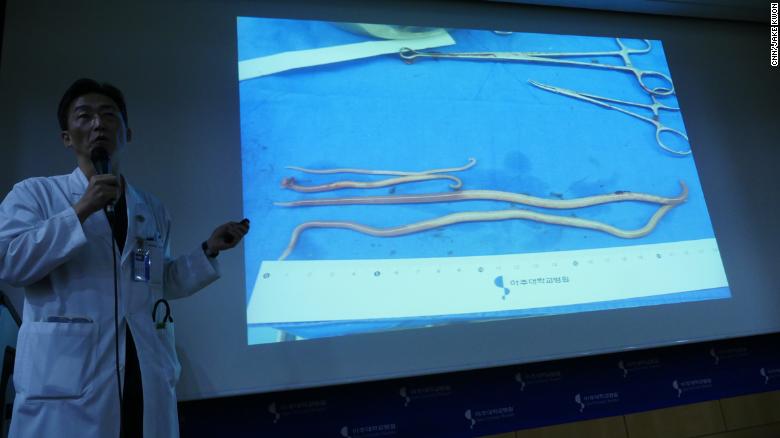 http://www.cnn.com/2017/11/22/health/north-korea-defector-parasites-health/index.htmlhttp://www.cnn.com/2017/11/22/health/north-korea-defector-parasites-health/index.html
5. Plotograph In Photoshop!?
My co-worker showed me this video, and I have yet to try it. However I'm going to experiment with it soon! I think moving images are the future of photography. I mean still images will still be around (no pun intended), but the technology for Cinemagraphs, Gifs, and the like are only going to increase. I first found out about this technology 3 or 4 years ago at Photoshop World, and now you can do it with a single photograph. Trust me (well don't trust me, I'm terrible at predicting things – I thought twitter was a passing fad, but rather believe me?) when I say that the technology is coming for movable images to be viable. I'm talking about flexible e-paper with full color spectrum capabilities and digital displays for billboards and the like. It's not some weird thing from a sci-fi novel. The technology is here, it's just too expensive right now, but don't worry the Law of Anzai – wait long enough and things get cheaper, until they don't (think antiques).